The Pocket Blog
Our biggest contest yet: BLIND BOX BONANZA!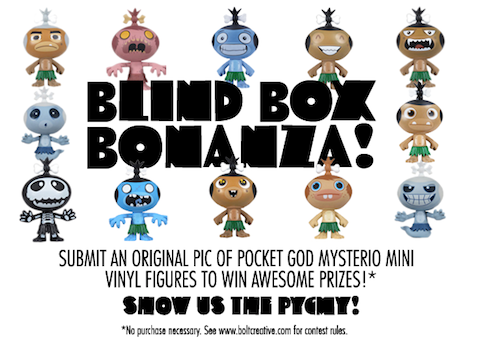 Hey folks! We're introducing our biggest contest ever, the Blind Box Bonanza, with over $3000 in prizes! And all you have to do is — get creative with your vinyl collectible "Mysterio Mini" Pygmies!
Got some construction paper or clay? Put your Pygmies on an island! Got a plastic dinosaur somewhere? Menace your Pygmies with it! Put your Pygmies in a creative pose or display, take a picture, and send it to us! They will be judged by three judges from Bolt Creative based on appeal, creativity and humor. Got a lot of ideas and can't choose just one? Enter multiple times! There's no limit to how often you can enter. And the winners will gain eternal fame, plus a bunch of snazzy collectible prizes, including NEW collectible figures, paperbacks, Apple gift cards and more!
There are three contest levels you can enter:
UNIVERSAL CONTEST LEVEL: "Got 'em All!"
This contest is for those who have collected ALL SIXTEEN of the Mysterio Minis, and are ready to make an epic picture of their collectibles! This is the highest level you can achieve with the grandest prize of all going to the first place winner!
For this contest, you need to include all 16 of the Mysterio Minis in one picture! Get 'em all in a group doing something amazing and funny, take a picture of it, and you could be the BIG WINNER!
ISLAND CONTEST LEVEL: "Got Some Rare Ones!"
The second highest contest level, this is is for those really dedicated souls who obtained the rarer Minis. These are the Minis that are labelled 1/24, 1/48, 1/72 or 1/144 in the picture below.
All you need to do is take a picture of at least ONE of these rare minis in a funny situation to qualify. You can take a picture of more than one, of course — wouldn't want those Pygmies to be lonely!
PALM TREE CONTEST LEVEL: "Best Hundred Snaps!"
This level is for anyone who has a Mysterio Mini at all, rare or not! Your picture must include at least ONE Mysterio Mini other than those labelled 1/24, 1/48, 1/72 or 1/144 in the picture below. Get zany! You can still win some awesome prizes!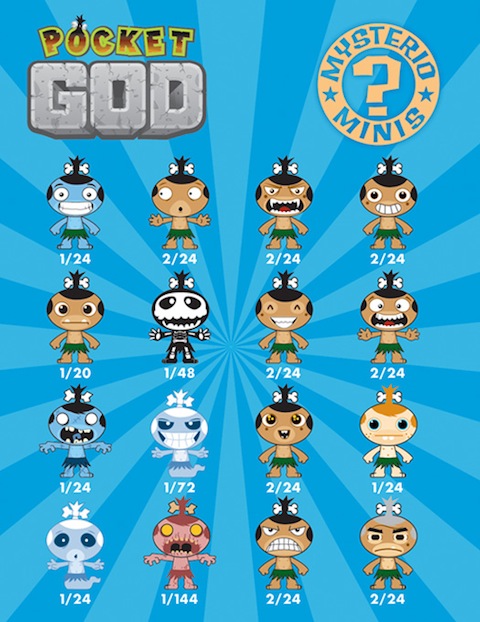 Once you've taken your Pygmies' picture, send the photo to us at:
contest@boltcreative.com
Include in the email your
name, address, email address and phone number
. Again, there's no limit to how often you can enter, and there's no purchase necessary! You could be one of more than a hundred winners! Show us YOUR Pygmy and WIN!
Now for some nitty-gritty:
1) If you're 12 years or younger, you MUST get your parents' permission to enter. Click here to obtain a Permission form for your parents to sign.
2) This contest is available to United States residents only.
3) The deadline is DECEMBER 11, 2012! Get in your entries before then!
Now, the obvious question remains: Where can you get your Mysterio Minis? They're available at BARNES AND NOBLE! If you buy them at Barnes and Noble, it helps us to make even cooler Pygmy figures, like Charlie (both normal Charlie and tiger-Charlie) and more female Pygmies! You can also buy them at the Pocket Shop if you wish. Remember, you never know which one you'll get, so once you get yours, start thinking up the coolest and funniest things you can have your Pygmies doing! We want to see them, and we want you to WIN!
For the official contest rules, click > > HERE < < .
PocketGod @shimrra spoke to the devs, there is an issue with PSN. submitted ticket which takes 1-5 days for email response (b/c small dev)

PocketGod @shimrra Hey Gabe, the PGvDA guys are looking into it. it's possible they did some server maintanance.

PocketGod @jack_howley lol, don't get your hopes up. it's just that we would have to make a PG2.0 to justify redoing all the textures.
Godly Downloads