The Pocket Blog
Episode 47 bursting out next week!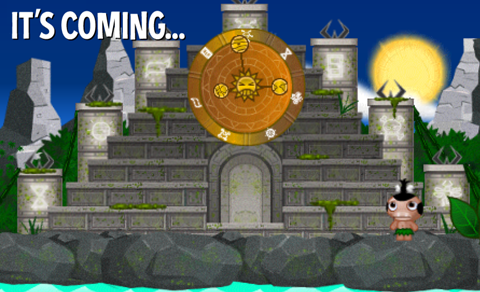 It's Pygmageddon. It's the ultimate judgment of all things Pygmy. And it's up to you to keep your eyes wide open and save the race from the final war of their world.
The Temple Island will reveal its final room in this update, and your job is to solve a mysterious puzzle… while having some fun with the Pygmies in the process, of course!
How well can you predict what's going to happen in this update? How proficient are you at foreseeing the culmination of the Pygmies' temple journey? Why not find out? Take this quiz and make your predictions! And upon the arrival of the episode, see how well you did!
…
1) Which of the following is the first step in triggering the Pygmy apocalypse?
a) force-feeding a Pygmy sacrificial knives (20%, 89 Votes)
b) exploding a Pygmy (15%, 65 Votes)
c) transforming a Pygmy into a lizard (17%, 78 Votes)
d) answering a telephone (11%, 49 Votes)
e) none of the above (37%, 167 Votes)
Total Voters: 448

Loading ...
2) What can cause a Pygmy to become violently angry?
a) mysterious alien spirits (41%, 177 Votes)
b) a photo-negative anti-Pygmy (16%, 68 Votes)
c) Allan (12%, 50 Votes)
d) the dark waters of the temple mirror (27%, 117 Votes)
e) a raven (5%, 22 Votes)
Total Voters: 434

Loading ...
3) What will you have to collect to ultimately save the day?
a) several dead, diseased Pygmies (11%, 43 Votes)
b) golden orbs (19%, 75 Votes)
c) torches (5%, 18 Votes)
d) miniature Pygmy replicas (15%, 61 Votes)
e) colored gems (51%, 202 Votes)
Total Voters: 399

Loading ...
4) Which of the following are going to be the source of the ultimate evil?
a) Dave (19%, 79 Votes)
b) the old Pygmy (3%, 11 Votes)
c) Charlie (38%, 153 Votes)
d) the baby Pygmy (23%, 94 Votes)
e) the Ginger Pygmy (17%, 71 Votes)
Total Voters: 408

Loading ...
In the meantime, watch this space! And be sure to check the >> Pocket God Forums << for a potential preview shot! > > Register for the Pocket God forums here! < <