The Pocket Blog
Issue 21, featuring part 1 of "The Pygmies Strike Back," is out now!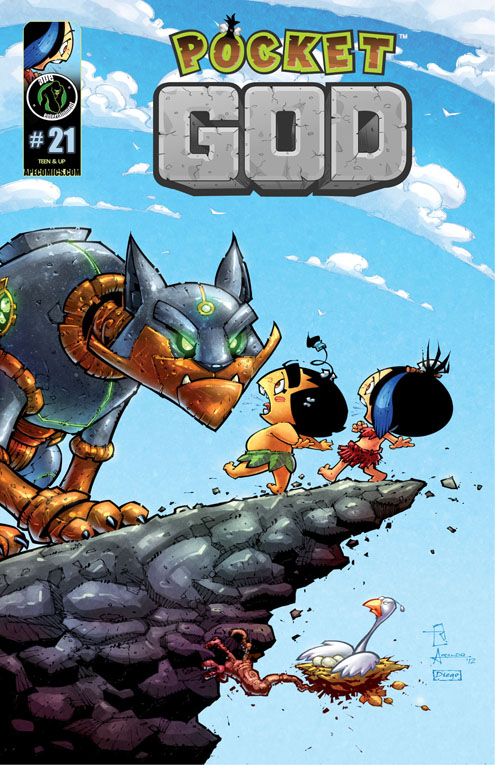 The Pygmies may have immortality back… but it might not do them any good! Something's still out there, wanting the Pygmies for its own purposes… but why? And will it cause an unrepairable rift in BOTH tribes?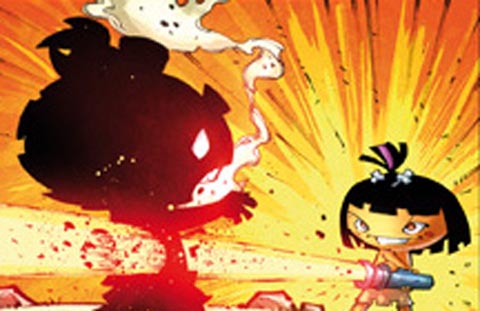 Issue 21, the first part of the five-part arc "The Pygmies Strike Back," is available now! We begin with the discovery that the girl tribe's broken gem is still functional, except one half works with one half of the tribe, and the other half the other!

While Klik and Teela are making other discoveries, Nooby has returned to the girls' island with his special "thingy," and shares both his story and his peculiar new possession with Ooga. What is Nooby's "thingy"? Will it help solve the Pygmies' current crisis?
Because there is a crisis, you see: Moon and Klak discover a new creature whose goal is to make sure that the Pygmies don't live "happily" ever after. Klik and Teela think drastic action should be taken, and Sun and Moon agree… only their definition of "drastic action" is different!

The result is that the Pygmies could find themselves at a crossroads (or a cross-islands) that might well divide them even worse than before! In this arc, all the mysterious threads will begin to weave themselves together… just in time to see the Pygmies themselves unravel!
> > Check out the latest issue; only 99 cents, which is not only cheap, but inexpensive too. < <
As usual, there's also the latest Pygmy Peril — absolutely free — with fan art, behind-the-scenes peeks at Bolt Creative, and "Little Green Men!"
PocketGod @shimrra spoke to the devs, there is an issue with PSN. submitted ticket which takes 1-5 days for email response (b/c small dev)

PocketGod @shimrra Hey Gabe, the PGvDA guys are looking into it. it's possible they did some server maintanance.

PocketGod @jack_howley lol, don't get your hopes up. it's just that we would have to make a PG2.0 to justify redoing all the textures.
Godly Downloads