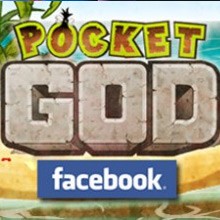 Pocket God on Facebook
Pygmies have found a new home in the social network with Pocket God™ on Facebook. More than a simple port of the iPod version, Pocket God on Facebook features unique powers, female pygmies and the ability to spawn your friends on your island.  Participate in special Facebook challenges and see how far you can go!
Episode 10: Attack of the Killer Pumpkin
Release date: October 24th 2011
New powers available:
Plant
Global Challenge:
Halloween challenge
Kill 250,000 pygmies with the Magic Pumpkin power
A reward is shared between all participating players.
A unique idol is given to all participating players.
Send candies to your friends. They restore devotion!